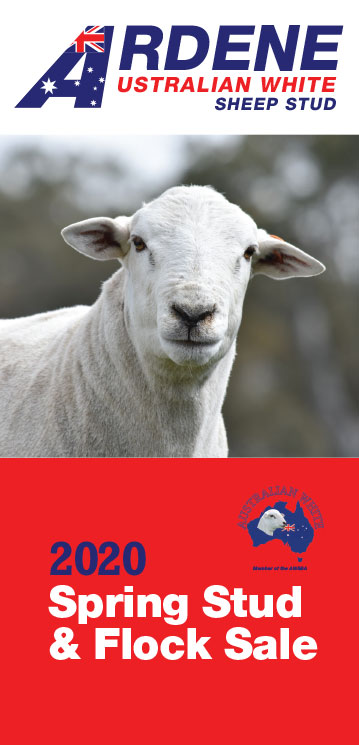 Ardene Australian White Sheep Stud would like to ensure all our valued clients, that our 7th annual sheep sale will be conducted in a safe auction environment.
We will be adhering to Covid19 guidelines throughout the day, on property, with a Covid19 Safe Plan in place.
We advise that buyers arrive early, to allow for necessary protocols to be completed, prior to entry into the shed.
We would also encourage you to please let us know, where possible, if you are attending the sale, to assist with catering and Covid19 seating logistics in the shed.
This year, we will be interfacing the entire sale with AuctionPlus. Any clients not familiar with the online system, are encouraged to get in contact with either the Ardene team, or with your own livestock agent, who will guide you through the process.
We will also be having pre-sale inspection days on Friday 11th and Monday 14th September at Ardene, in Mount Torrens (South Australia). These will be conducted by appointment only - so to maintain Covid19 procedure. Appointments can be made with the vendors (details right).
Video footage of all stud stock, and a selection of the flock rams, will be available in the coming weeks, on our website www.ardene.com.au and facebook page. Catalogues will be available at the inspection days, and also by email and post.
As always, Bruce & Jannie are always available for any queries or requests that you may have. Please don't hesitate to contact us.